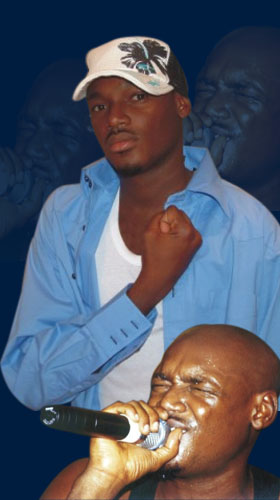 2face Idibia
Playing Below: African Queen
Sing Along: Lyrics
echo echo Yeah, yeah, U r my african queen, oooh lord, oooh lord
Just like the sun, light up the earth, u light up my life
The only one, I've ever seen with a smile so bright
And just yesterday, u came around my way
And changed my whole scenery with ur astonishing beauty
oh You coulda make a brother sing, u ordinary thing
A supernatural being, I know u are just brighter than the moon
Brighter than the star, i love u just the way u are.

CHORUS
and u are my African Queen, the girl of my dreams.
U take me where i've never been
U make my heart go ting-a-ling-a-ling, oh ahh
U are my African Queen, the girl of my dreams
And u remind me of a thing
And that is the African beauty yahhh

VERSE II

yahh yahh oooo, you are my african queen, oh lord, oo lord hmm
Out of a million u stand as one
the outstanding one
i look into ur eyes, girl what i see
is paradise yeah
u captivated my soul
now everyday i want u more o o oo
how can i deny this feeling am feeling inside ey
oh no one can never take ur place
can never take ur space
thats a fact i cannot erase
and u, u are the one dat makes me smile
make me float like a boat upon d nile.

(CHORUS)

VERSE III


oooo ooooo yaahhh yahhh oooo

U are my African Queen and I know, oh yes i know hhn
U are my African Queen and I know, see I know
See I know what I am feeling in my heart and in my soul
oh I know that it is love
And I know that this love was surely sent from up above
Cause u're the only one I think of
U are my African Queen
And I know that this means that u're the only one that I will serve
I'll give u my heart, my love, my body and my money
Every other thing u think of
Who could think of anything better than u
Who could think of ever hurting u
Sacrifice my all, i'll give it all to u
Cause u ar my African Queen
4 REAL

(CHORUS)

So black, so beautiful
I love u, i love u, i love u, munyemo, i love u, i love u, i love u, munyemo, i love u, i love u, ooohhh yeah, my African Queen, I love u, I love u.;

He is hot, talented, easy going, and very humble. 2face Idibia, the hottest artist in Nigeria talks about his career, getting started, romance, life being 2face and more. Sit back, relax and enjoy this exclusive interview and when you are done feel free to contact him.

NE: The name Tuface, how did you come up with that?
2face: The first impressions you get when you see me based on what I look like and the person I am on the inside are different. In my opinion I also believe everyone has two faces.
NE: How would you describe your personality?
2face: I am very playful, cool, humble person but I can be crazy sometimes. I like to make people laugh, keep conversations going, and sometimes I like to be the life of the party.

NE:When did you decide you wanted to get into the music industry and what has the journey been like?
2face: I've been into music for a long time. I knew I could sing since I was about 7 years old. I would sing in the house with my friends, sing in high school, but then it was just for fun. Then in 1997 I decided to go professional and do it full time. I and blackface started a group called plantasion boyz. It was rough starting out, there was no money, no one knew us, it was a hard struggle. Our first break came when a guy called Kally Ikpe invited on his show Live Beats. We featured on the show, did an interview with him, and the next day he asked us to come to the studio and we did a montage for the show and that was the first time people started noticing us. From there we would do one or two shows here and there. We later featured in Tony Tetuila's Omode Meta Shere and that was loud, from there we did our own album and brought faze in. The album was very successful.
NE: How far are you planning to take your career?
2face: I hope to be internationally known. I want to be as big as some of the biggest names out there. People like Wyclef, Bob Marley, Micheal Jackson and Fela to name a few artists. I also have bigger plans outside of singing but we will discuss that some other time.
NE: How do you prepare yourself for a day in the studio?
2face: For a day in the studio, I wake up, get cleaned up, get some food, drink some water, and depending on my mood I listen to some music for some inspiration. Then I head out to the studio to make my music. I love being in the studio.
NE: The song African Queen is a huge hit, what was your inspiration for the song?
2face: My inspiration for African queen is my love for the African woman. I wanted a song to celebrate their strength, show appreciation for how they support the African man. African women are very warm, and they know how to take care of their family. I just love the African woman and this was my way of saying I love you and appreciate you all.
NE: Would you say the song was influenced by who you are on the inside?
2face: Yes, it was, Like I said I love the African woman and the influence came from that.

NE: Im sure the women would like to know, are you single?
2face: Yes I am single and it's mainly by choice. Right now I am facing my career but if the right woman comes along then that would be great.
NE: What about settling down and having kids do you think this will affect your career?
2face: No I do not see it affecting my career. I love children, I would love to have about 4 of my own. I would love my family more than anything else. Instead of affecting my career I think It will give me more drive and energy to be better at what I do. I would want my family to be proud of me. It would be nice to have my kids say, "that's our daddy and we are proud of him".
NE: Is 2face a romantic, and if so what is your idea of romance?
2face: I could be romantic. To me romance can be anything. It has to come from within depending on the individual you are dealing with.
NE: Your album face 2 face has a lot of great songs, what three songs are your favorite?
2face: That is a tough question. I love all the songs. Each song gives me a different feeling. There is something I am personally attached to with each song. If I had to choose it would be, You no Holy Pass, African Queen and Odi'ya.
NE: How many copies have you sold so far?
2face: I've sold over 1 million copies so far. I have not received the latest official count which should be topping 2 million.
NE: Would you consider yourself an R&B artist?
2face: No, My style of music is universal and unique so I would not call it R&B.

NE: Any plans to tour Europe and North America?
2face: Yes, I cant talk much about that right now.
NE: What Nigerian artists would you like to collaborate with?
2face: Most of the artist I would like to collaborate with are underground artists like Simone, Lil Seal, Rocksteady, Bionic and Mr Buster.
NE: Any plans to get back with the plantasion boyz?
2face: I definitely want to get back with them but for now we are still concentrating on our individual projects so I cannot say when. I am very willing to get back with them and make more music.
NE: How do they feel about your accomplishments?
2face: For me when people praise my music, I still don't see it the way they do. I don't feel I have accomplished a quarter of what I would like to achieve. I want to make music that inspires the masses. I would like to use my music to better peoples lives or at least change the way they view life. I want to make music that can create a peaceful environment amongst not so peaceful people. If I can start from there then that will make me feel like I have accomplished more.
NE: Would you consider yourself the hottest thing in Nigeria right now?
2face: There are a lot of hot artists in Nigeria right now and I'm just one them. I will leave the public to judge.
NE: What or who would you say you owe your success to?
2face: I owe my success first and foremost to God. It hasn't been easy, some things have happened during this journey and if I had let it take over me, I probably wouldn't be who I am. I also owe it to my parents for the way they brought me up and to all my fans for loving and accepting my music and to blackfaces brother who gave us the money to do our first demo tape.
NE: Would you say it is really hard to make it in the Nigerian music industry?
2face: Its not easy anywhere. Every country has their own politics, economics and peculiar ways about their industry.
NE: What's the recipe for a hit song?
2face: That's a secret (laughs)
NE: You recently got robbed, has that whole experience changed your outlook on life?
2face: Yes definitely, I used to trust people a lot but the way I trust people now has changed. It has made me realize that anything can happen any minute. Just be a good person because things could change in a spilt second and like scouts always be prepared. I also appreciate life more now.
NE: The Nigerian music scene, give us an insight into what's going on?
2face: The Nigerian music industry is coming back to life. There was a big gap between the old school and the new school which left no room for a smooth transition. This gap is closing and gradually everything is looking for positive.

NE: How has being 2face changed your everyday life, do you get fans all over you when they see you in public?
2face: Yes, I have people who know who I am and approach me, this is cool but when it becomes not so cool sometimes I wish nobody recognized me. I love to chill out like a normal person but It's hard. I just want to be able to walk through a crowd and mingle with people peacefully and on a normal level. Its crazy, I guess that's the trade I have made, sacrificing my private life.
NE: Who would you say your fans are? I am guessing mostly women.
2face: My fans are all sorts of people, young and old, men and women. Everybody! When I go to shows or places I get equal response from all kinds of people. I feel the hand of God in it because I wonder how all age groups and sexes are able to feel me like that.
NE: It's obvious that everything dey happen so how does 2face relax and get away from it all?
2face: Lately, the only time I relax is when I get home, take a nice long shower, jump in my bed and watch a movie or listen to some music before I drift off to sleep.
NE: Do you have any advice you would like to offer any artist trying to make it in the industry?
2face: First of all, the talent has to be there, if you don't have talent there are other parts of music you can go into like producing. Just like any other profession, its not easy, it takes a lot of practice, patience and hard work. Do not think it's just something you just jump into and be successful. My advice is to learn about the industry, practice, work hard and make sure you have genuine talent.
NE: Do you have your eyes on any music scene outside Nigeria?
2face: I have my eyes on every music scene. I want to be able to reach the world, from Nigeria to Russia, to Europe. I have my eyes on the world music scene. I am Nigerian though and I still have to represent.