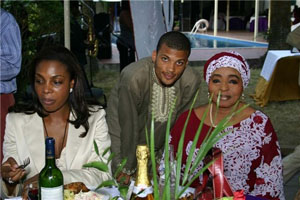 Nike Oshinowo, Dimeji Alara and Abba Folawiyo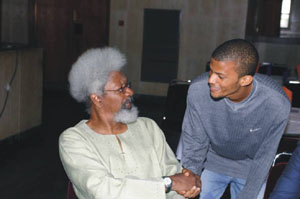 Prof Wole Soyinka and Dimeji Alara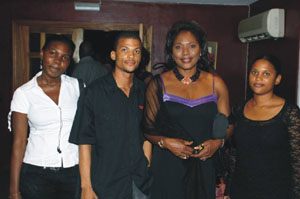 Barbara Olopade, Dimeji Alara, Grace Egbagbe and Feyi Alara
10 Most Talked About Parties of 2004 by Dimeji Alara
These parties might have long been over but will forever remain in the memories of those who were lucky to attend. From the fashion enthusiast to the beautiful dame, heartthrobs to beaux, young to the gracefully ageing, these gatherings attracted quite a number of high profile personalities; they are the most talked about events of the year 2004. These events had many celebrities lobby for Invites. In this list of the most talked about parties of the year 2004, Dimeji Alara brings you 10 parties that stand out, read on ~
Jay Jay Okocha s Party
Mercurial Super Eagles captain, Austin Jay Jay Okocha was busy on the 20th of June 2004 swinging and swaying at a party in Nigeria while his teammates were scurrying and sweating to host Nigeria's flag at the 2006 World Cup in Germany. The party was held inside Green Park on Adeyemo Alakija Street and must have cost Jay Jay and his wife millions to put the together. Uche Majekodunmi-led Newton and David decorated the venue, while the white I.V was produced by Tender Touch. Celebrities who attended the event include Kojo Williams, Kanu Nwankwo, Paul Okoye, Richard Keith, Olu Priddy, Willy and Nkiru Anumudu amongst others.
Mohammed Babangida's Wedding
The weekend of July 9, through Sunday, July 11, 2004 in Minna and Maduguri won't be forgotten for a long time, when Babangida's first son got married to Rahama Indimi. Many are still catching their breath. The glamorous wedding ceremony was sign posted with many show-stopping ceremonies which attracted the likes of Nike Akande, Angela Onyeador, Bola Shagaya, Folorunsho Alakija, Grace Egbagbe, Ronke Ayuba, Kanu Nwankwo and wife, Adrian Woods, Abdul Salaam Abubakar, Aliko Dangote, Gbenga Daniel, Kunle Bakare. The list is endless.

St. Moritz Style Awards
Classy and wreathed in style, the St. Moritz style awards took place on the evening of Saturday, July 10, 2004 at the Expo Center, Eko Hotel and Suites located on Adetokunbo Ademola Street, Victoria Island. The likes of Olisa Adibua, Soni and Betty Irabor, Ann Suinner, Ruth Osime, Benny Obaze, Nana de Souza, Guy Murray Bruce, Jimi Delaja, Thokunbo Modupe graced the event.
Kanu's Grand Wedding
The likes of Angela Onyeador, Bisi Olatilo, Ben Bruce, Florence Ita Giwa, Eunice Efole, Nona Adimora, Osita Iheme gathered to celebrate the Super Eagles player, Kanu Nwankwo's wedding on the 3rd of July 2004 by trooping out in their thousands to felicitate with him. Kanu's people love and adore him and they proved this to him.
Wole Soyinka's Book Launch
The presentation of the book, "Wole Soyinka: A Life in Full" by Bankole Olayebi was held at the Muson Center, Onikan on the 14th of July, 2004 as part of the highlights of Wole Soyinka's 70th birthday Festival. The likes of Wale Edun, Kaine George, Steve Rhodes, Abike Dabiri also graced the event.
The Abebe's Wedding
In a three-day jamboree, the family of Dr John Abebe gave their daughter, Hilda to Tunde, the second son of Rev. and Mrs Adeboye as his lifetime partner. The colourful ceremony, which had the President Olusegun Obasanjo in Attendance, took place at TBS, Lagos on Thursday, July 15, 2004. Some of the celebrities who attended the event include Nike Oshinowo, Grace Egbagbe, Erelu Dosunmu, Eyimofe and Dorothy Atake, Nkiru Anumudu, Sonie and Betty Irabor, Stella Obasanjo, Onarie Duke, Cecilia Ibru, Lanre Ogunlesi, Bennie Uche, Bola Shagaya, Bola Tinubu Mike and Mary Inegbese, Nina Okoloko, and Sienne All-Well Brown.
Grace Egbagbe's Dinner Party
City people Magazine in early July 2004, organised a dinner to celebrate the Gracefull Grace Egbagbe as Nigeria's most fashionable woman, guest were treated to the brim. The dinner had the likes of Funmi Iyanda, Benny Obaze, Genevieve Nnaji, Eunice Efole, Paul Dairo, Remi Osholake, and Quincy Ayodele in attendance.
Dorothy Atake's Birthday
The beautiful mother of three, lawyer and wife of Senior Advocate of Nigeria, Eyimofe Atake, celebrated her 40th birthday and what a celebration it turned out to be. The synergy band was on hand to entertain the very distinguished guests at the dinner party held in their lovely Lekki Home. Some of the celebrities who graced the event include Ernest Shonekan, Sandra Solebo, Soni and Betty Irabor, Linda Edozien, among others.
Gloria Ita Ikpeme's 50th Birthday
The hall in Eko Hotel and Suites was filled to the brim when celebrities gathered to celebrate Gloria Ikpeme at 50. The event was a role call of celebrities such as Willy and Nkiru Anumudu, Benny Uche, Teju Babyface, Sonie and Betty Irabor, the late Jaiye Aboderin and his wife Stella Damasus amongst others.
Mo Abudu's 40th Birthday Bash
It was a night of fun and celebration, as entrepreneur per excellence and hotelier Mo Abudu clocked 40. The birthday was celebrated in her hotel; Protea Hotel located in Lekki and had the likes of Princess Nina Agwuna, Muka Nwokedi, Folarin and Folake Coker, and Dan Foster among others.