When you think of Nigeria, the first thing that would probably come to mind is strong family values, rich culture. Even after the years of British influence, we still retained all the traditions that helped us stay together during our fight for independence in 1960. Forty Five years later, Nigeria still boasts of a multi colored variety of core-cultured activities, Folktales, cultural dances and of course music.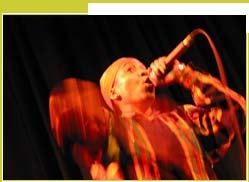 But what major roles do women play in these activities? Women like, Funmilayo Ransome-Kuti, Onyeka Onwenu have proved a great deal that women have a respectable position in our society. But how open were we to women who went over the margin, females who dared to take on challenging boundaries? Roles influenced by the European world new to both our men and women.
And still how often do we think of females first in situations like this?
Here is a survey from the NE boards

"Think Hip-Hop
Think Nigeria
Now Write The First Artist That Comes To Mind
Now Write The First Female Artist That Comes To Mind"
NAME----------THINK HIP HOP IN NIGERIA ----------THINK FEMALE ARTISTS
Petals ---------Styles plus ------------------------ Female???..ermmmmmm??nahhh...nada!dunno any
PinkTease------Trybesmen-------------------------weird mc.
Brownsugar01-- Maintain -------------------------
BeeGeeTee---- Banky ------------------------------Omo whats the name of that ALLEN AVENUE CHICK...

From the results of the survey,
It is clear that Nigerians still choose the male over the female when it comes to first choices.
U.K born Rapper/Producer and Lyricist, Deshola Idowu a.k.a Weird Mc & Rappatainer burst into the scene a couple of years ago when her famous smash hit single "Allen Avenue" sky rocketed beyond belief.The multi talented Artist adopted a variety of inspirations such as Lagbaja,Fela Kuti, Brenda Fassie & blended them with the hip-hip genre which created a rich smoothie;appetizing to the music lovers and tempting to the chauvinist audience.She raised a few eyebrows and later dropped a lot of jaws when she became the first hip hop artist to win an award in Nigeria.


Nick Name : madam weird
Stage Name : Sola aka weird mc
Former Stage : Name weird mc
Favorite Color : Dark Burgundy
Favorite Food : Rice, fried plantain and stock fish
Favorite Artists : Jimi Hendrix, Lenny Kravitz, Lagbaja, Kush, Missy, Fela Kuti, Nerd, Brenda Fassie, Lauryn Hill
A Quote You Live By : Free your mind and da rest will follow

Eniola Funsho: Whats the name of the label that signed you?
Deshola: I do all things via my label 0907 Entertainment right now

Eniola Funsho: Your Most Embarrassing moment?
Deshola: Hmm haven't really had any
Eniola Funsho: You can be spotted rocking what attire ?
Deshola: What I spot goes wiv my mood sometimes i like to bling ..or just keep my gear on the d-low,I love shirts,well tailored shirts.i just go wiv my mood of the day
Eniola Funsho: What do you think people probably don't know about you?
Deshola: Hmmmmmmm
Eniola Funsho: Why did you change your former stage name?
Deshola: I just felt kind of limited using the name but you know what I'm very attached to it I'm finding so hard to let go so you never know ..
Eniola Funsho: When did you first decide you wanted to be an entertainer?
Deshola: As far back as forever i used to be hooked on NTA channel 5 i remember watching videos by Janet Jackson,Michael,New Edition,Cameo, Kurtis Blow. i got blown away i knew i wanted to do this period
Eniola Funsho: And did you decide immediately what genre you were going to concentrate on?
Deshola: No i started out writing i still have those songs real smoochy stuff yuk! then i discovered a beautiful thing called Hip Hop and I was hooked

Eniola Funsho: LOL, What obstacles did you face when you were starting out?
Deshola: Family Stuff,Sexism But stood my ground
Eniola Funsho: When did you get your big break?
Deshola: I'd say back home in Nigeria i put out a single called Allen Avenue it blew up beyond my expectation
Eniola Funsho: Did you every reside in Nigeria?
Deshola: Yes I've always stayed Nigeria..I'm U.K. born so i visit a lot but I'm a Naija babe true n true
Eniola Funsho: What would you do differently?
Deshola: If you were to do anything differently in your career what would you do: I'd concentrate on doing movies i love acting I'd really like to give it a go

Eniola Funsho: Your words of wisdom to young and upcoming mcs (especially females) ?
Deshola: Stay strong but do remember the industry is pretty much dick driven.Thank you
Eniola Funsho: OH LORD! That will definitely get some attention!
Thank you very much, you are a true inspiration to women and you definitely play a significant role in changing the stereotypical view in the society
I hope that the next time we all hear the names: Weird MC, Rappatainer or Deshola Idowu, we don't think, "Omo whats the name of that ALLEN AVENUE CHICK..."
Instead think of the first Nigerian female to give the MC's a run for their money
HAPPY INDEPENDENCE FROM
ENIOLA FUNSHO & ADESHOLA IDOWU