BOOK REVIEWS
The Family; Purple Hibiscus
By AdeT Kolapo
-----------------------------------------------------------------------------------------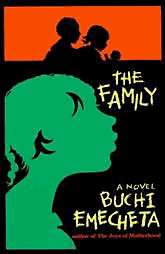 The Family
Buchi Emecheta
Synopsis
Gwendolen's simple but enjoyable lifestyle in the slums of Jamaica was without qualms until her scarcely appearing father took her mother away to England for a better life. With the promise that they would send for her as soon as possible, Gwendolen kissed her mother and unknown to her, her childhood away. Left to make a life with her grandmother, Gwendolen continues to relish in her illiterate existence until her bright eyed innocence is stripped from her one day when her "Uncle" Johnny continually rapes her beginning from the age of nine. With her mother continuing her life without her, the birth of her two brothers oversees, and suspecting eyes of the neighbors and her grandmother who ultimately believed her rape story yet are convinced she must have done something to warrant it, Gwendolen results to finding peace and sanctity in her mind. When her parents send for her, Gwendolen is enthralled and looks forward to forgetting all the horrors of the past years in Jamaica. Upon arriving in England, Gwendelon is greeted with severe culture and weather shock but adapts quickly. Everything seemed to be going well, until one day the horrific history begins to repeat itself. With the fear of losing her mother's love and warranting everyone's suspicion Gwendelon must find a way to assure that the results of the last incident does not repeated itself.
Review
Ms. Emecheta direct style of writing pleases me immensely. She does not attempt to draw out the story in attempt for anxiousness to build in the reader; the impatience to discover "what happens next" develops naturally as the book progresses. From the first page, the author captured my attention; her adjectives leave no room for misunderstanding of the character's feelings. What I love most about this book is that Ms. Emecheta openly addresses a subject that most authors consider to be taboo; she brings you into a world where everything appears to be unorganized on the outside and shows you the organized chaos brewing on the inside. Most of us believe that things discussed in this book only existed in the olden days however she breaks that preconceived notion by bringing it into modern time, she opened my eyes to the fact that many things that do not exist in my world exist and thrive elsewhere. It was encouraging to see how Gwendolen handled all the trials she was put through, through no fault of her own. It was almost adventurous in a way to follow the way she attempted to protect and please everyone, the way she fooled everyone, the way she adopted a persona that was the antithesis of what she was. And it was heartwarming to see how in the end she thrived regardless of all the acts of injustice performed against her. Although it takes a while to get used to the accents and diction, I would still recommend this book to anyone who is curious to see a world that differs greatly from their and who is ready for a roller coaster ride with no seatbelt.
Rating 4/5 Glossy Kisses
-----------------------------------------------------------------------------------------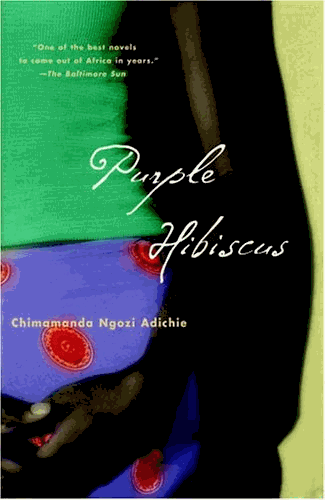 Purple Hibiscus
By Chimamanda Ngozi Adichie
Synopsis
Kambili is the fifteen year old daughter of a very important and deeply religious man in Nigeria. Her and her elder brother Jaja, are accustomed to a very organized and strict lifestyle, one that requires nothing but the absolute best and demands complete obedience and respect to their father. Kambili strives to please her father with all that she does, from the way she dresses, her schoolwork, her relationship with her brother and especially her Catholic faith. Because they've been secluded all their life, Jaja and Kambili believe that their life is perfect and revere their father as the biggest hero of their world. Suddenly due to violence breaking out in their neighborhood, Kambili and her brother are sent to visit their aunt for a short time. There Jaja and Kambili are assaulted with the realization that their lives differ enormously from everyone else's as she witnesses the interaction between her cousins, one who is her age mate, and their mother. There also Kambili meets a priest, who shows her that it's possible to be strong in faith but still enjoy the freedom that life offers, he shows her how to be free, and shows her how to laugh. Slowly, Kambili and Jaja begin to realize that the "acts of love" their father perform to discipline them and to make them "pure" in the eyes of God are very abnormal. Kambili is now faced with the decision of whether to rebel against her father like her brother or to continue to idolize and please him regardless of all that he's done and continues to do to her mother, her brother, and herself.
Review
This book was absolutely breathtaking and exquisitely splendid. To say it was a page turner would be the understatement of the century. This is the first book I've ever read by Ms. Adichie and I must say I was in no way disappointed. The whole time I read this book I felt as though I were a bystander in the house, watching, wanting to help Kambili, wanting to hug her and let her know that what she was going through was not normal, wanting to show her the way things could be, but of course could not. There were times when I was afraid to turn the page in fear of what it would hold , there were times when I was actually screaming, praying in my mind that she'd be ok. Ms. Adichie brings this story to your doorstep, makes you feel as though you're watching an extremely talented young lady grow up, she makes it feels a though these characters are your family, as if in some way you're responsible for them and your emotions can change the outcome of this book. The evolution of the book progresses with the interest of the reader, and helps assert the fact that sometimes the "happy endings" we get are not the ones we foresee. I would recommend this book to any and everyone in fact I have made many close to me read it whether it was in their will or not. I demand that you must also read it or else I'll stalk youJ.
Rating 4.7/5 Glossy Kisses
Email AdeT at tobinrin@hotmail.com