DIMEJI ALARA'S CORNER
A New Beginning
by Dimeji Alara

From a broken relationship to family problems and a Fibrocystic Lesion in the right Pinna of my ear…what more could define a bad season in one's life than this? This era was a very bad one for me as so many things began to unfold. The paparazzi never stopped writing about how my sugar mummy caught me with Jerry Rawlings' daughter in far away Ghana in the city of Accra. Now they've stopped the Bimbo hullabaloo and it was time for another scandal…no wonder a fellow journalist, during an interview once asked me why I was always jumping from one controversy to another… someone who would rather remain anonymous once asked me "cant you live a free and low profile lifestyle Dimeji? Keep a low profile it would do you good, you don't need this unnecessary publicity".

What could I do? The press had been painting me in a derogatory manner for a long time now and I still couldn't do anything about it, some friends asked me to sue them…but do I really have time for all that? I had enough things to think about, I was just convalescing from a broken relationship and to my own believe…I was doing just fine, but I wasn't doing well enough to forget about all that had transpired in my life. Things started getting shoddier and I had to stay indoors most of the time, feeling sorry for my self and crying the ocean out of my life. As I sat in my room one afternoon, listening to a French slow song, I was staring at nothing and thinking about everything… "Life would never be the same again" I assumed to myself; now I was beginning to talk to myself, was I getting crazy?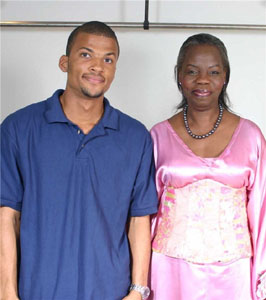 Maybe I needed to see a psychologist, I wasn't crazy but some things were fully clear to me, I was frustrated, depressed…you just name it, I was out of this world, thinking about all the bad things that had happened to me in my life, people that have disappointed me, friends that have betrayed me and most especially…my many relationships that have led to nothing. Since I couldn't help but feel the way I felt at that time, I decided to stay away from my friends, even some decided to stay away from me before I took that decision, but that was a welcome relief to me as I soon got to know my real friends.

My mum would come to my room, always bothered about me… "You look so bizarre these days" she told me, at times she would call me and say, "Dime, I am your mother, I am your friend, I am your everything. Talk to me if you have anything bothering you" but my usual response was "I am all right, there's nothing wrong with me", if only she knew my alleged dirty secrets, if only she knew her son was…oh God! How could I tell her that I was…huh, how could I tell anyone. This season was a mixture of everything bad for me and everything good for the devil, so many things had happened, so many plans had failed part of which had left me seriously aggravated, I was caught unaware and left in the middle of nowhere. I stopped eating well like I used to, I stopped taking care of myself and I looked…I looked nasty.
This had to stop I told myself one morning, it was time to start picking my puzzles and fit them together, I had to start my life all over again, even though I would have to start from the scratch. It was time to put my past behind me and face reality…no self-pity anymore. In life it's either you give up or move on, I had two alternatives and had to choose one, I decided to move on… "But how could I?" I would ask myself repetitively. My past kept hunting me, secrets I've kept to myself, dirty things I'd done in the past and the worst of it all…not being able to be myself, I would never be myself till I die, I'll live to be a two-faced man for the rest of my life, I would always have to wear a mask, why? Because I have two personalities, how would my family look at me? Especially my loved ones…would they still love me? Some things would have to go into the grave with me. I kept worrying about so many things but was determined to start a new life.

I remember going to an occasion with my brother, just to forget about my worries, so I'll meet people, listen to music and at least "this would be a beginning of new things, new friends and a new life," I thought to myself. Immediately I got to the event I started hearing whispers all over the place "Oh that is Dimeji…Ha! That is Dimeji" the whispers kept oozing as it grew louder and louder, and before I could realize what was happening, some ladies walked up to me and said "Hey, Dimeji it's nice meeting you, we always read about you in the papers, what about your girlfriend Bimbo Akintola?" Now I had to put up a fake smile and feign that all was well with me, I greeted them politely and pretended I didn't ear that part about Bimbo, the ladies kept asking but I still pretended not to hear and these ladies later went around the place telling people that I am arrogant. If only they knew what I was going through, if only they knew that there was an ugly face behind the beautiful mask they were seeing. That outing was supposed to be a relief to me but the opposite was the case…it only made things worse, not because of the previous problems I've had but because of something I'd just discovered, something that was growing in the pinna of my right ear.
Cancer was the first thing that came to my mind "Cancer of the ear" I blustered out in a very silent whisper…I was alone in my room in front of the mirror, the room was so quiet except from Dusty Springfield's 'The Look of Love' that kept playing in the background, I could hear my own heart beat…it was beating really fast. My boss (Betty Irabor) had just finished a campaign on breast cancer, and from what I was able to learn…to my own understanding about the disease was that, it starts to grow as a very little cell, which develops tremendously into something else, and any woman who discovers a lump in her breast has to remove it early if detected. The lump is said to spread to other parts of the breast if not detected early and in such cases the only option is to cut off the breast…I remember Jerry Rawlings' wife telling me that cancer of the breast also affects men, these lumps develop in any part of the body. Images of some cancer patients (beggars) I use to see on the Falomo bridge kept coming, maybe my ear would have to be cut off, and I would have to live with one ear for the rest of my life. Now I had to start panicking about Cancer, Cancer? Yeah…at least, that was my conclusion about my new discovery. I started to panic…I am very good at that, my mum and my sister stood by me throughout. I don't know why but I was scared to see the doctor. "Maybe it's nothing" I would console myself times without number, but it kept growing and the feeling about cancer kept emerging. Now, I had to see the doctor, either I liked it or not. My first acquaintance with the doctor made me really scared. He asked me to kneel before him so he could examine the ear, I knelt down in front of him and he was feeling my neck with his hands, dragging some skin there, I was wondering what my neck or the skin in my neck had to do with what was in my ear, "or has the cancer extended to the neck" I thought to myself and my mum intervened "Is there any problem with his neck doctor?" "No" he replied. He further explained that he was just trying to check were they can take the skin from, "what skin? What for? Why?" I wanted to ask so many questions at the same time. But he continued with his explanation, "Your son might have to go through a surgery madam… they might need some skin to replace the one in his ear, and if the skin in the pinna has been affected by the lump, the whole thing would be thrown away together with the skin, so some skin from his neck would be used to replace the one in his ear, he would have to spend 21 days at the hospital and do some plastic surgery" "WHAT?" I asked, like I didn't ear what the doctor said. He didn't stop but continued, ignoring me and facing my mother, "but there is also another option which I think would be better and easier" I breathed a sigh of relief waiting to ear what the next option would be…maybe I wouldn't have to go through that after all, the doctor still kept on talking "We can do it for him under local Anesthesia, and it would be removed just in one day and he wont have to spend 21 days in the hospital. Well, I chose the second option; I decided to do it under local Anesthesia.

I would never forget that day, as I lay at the hospital with a bright light above my head focusing on my ear, they injected me with the local Anesthesia and I didn't feel anything again, my ear felt like a piece of stone, I've always imagined how Anesthesia felt and how cuttings and sowings could be going on in a human's body without feeling anything. I soon got to find out myself, so much cutting and sowing was happening on the pinna of my right ear and I didn't feel one bit of pain, all I knew was that somebody was cutting part of me…and sowing too. It really felt funny that I wanted to laugh. I didn't feel the pain until the second day, and after the second day I didn't feel pains anymore. All that was left for me was to keep visiting the doctor so he would keep monitoring it, clean and keep changing the plasters and bandages. I kept going until the fourth day, after cleaning it, he said to me "maybe you should stop putting plaster, you can live it like that until it's all right, he led me to the mirror so I would see what my ear looked like, I hadn't seen it since it was operated, and here I was in front of the mirror, filled with so much anticipation…I opened my eyes, stared straight into the mirror and..and…and……oh my God!!!

Drastic situations have a way of inducing reality checks; so far so good I will be starting were I left off at Genevieve Magazine, my plans for my TV program is about to start and to top it all, God has blessed me with a very good friend…a friend that means everything to me, a friend that has accepted me for who I am. During these trials in my life, I've come to understand so many things and one thing that I want you to know is that whoever you maybe, wherever you maybe… the choice to succeed is yours, you either succumb to your fears or face them, its not going to be a jolly good ride, but you just have to keep moving on…we have to understand that throughout our stay in this world, we are bound to live with problems, either we like it or not, so the best thing to do is accept things the way they are and learn to deal with our problems because they'll never stop coming. I will forever be grateful both to the good and the bad people that I have come across in my life, without the bad people I wouldn't be urged to keep moving on, everything in our lives as it's significance, either good or bad. To all those I have been blessed enough to meet through life's journey I say a big THANK YOU. To my mum (Biodun Johnson), my sister (Feyi Alara), my brothers (Gary Alara and Olatunde Alara), my father (Olamide Alara), my friend Lekan Fadeyi (Azadus), Uncle Sonie and Aunty Betty Irabor, Mrs. Toyin Eriye, Geraldine Onyedinma, Jimi Deleja for his role as a big brother in my life…and my dearest friend that I keep closest to my heart (my friend would remain anonymous for now), to you all I say a very big thank you.
All in all may God's will be done in our lives and his grace be sufficient to us in all things. Amen