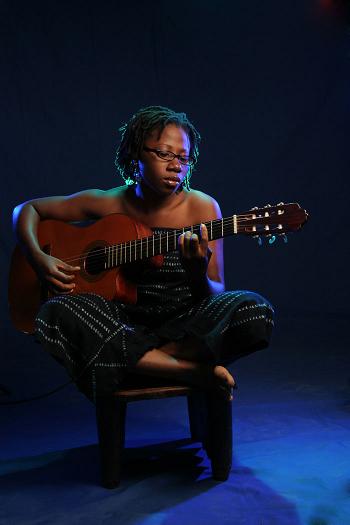 NE: Who is Asa? Tell us about the woman behind the music.
Asa: asa is an artiste whose name and identity speaks thru her music. Her music of peace, pain and reality in different forms.
NE: Seeing that you went to music school in France, is it safe for me to assume that you chose to make this a full-time career?
Asa: yes it's a life long career
NE: About how old were you when you knew that you wanted to go into the music Industry?
Asa: all my life as a growing child had dreamt it, I felt it and now, its reality.
NE: I love "Eye Adaba". What is the song about?
Asa: eye adaba is a song of peace and hope. It's a new dawn, I have seen great things. The bird that represents peace(dove)should come upon me. every day is a new dawn, leave yesterday with yesterdays.
NE: How did you manage to land an opening gig at the Femi Kuti concert in France?
Asa: the music I did together with ASSATA was just too good and it fitted well for the Femi concert.also, it came with good push from Stephen mojino-producer and agent for ASSATA.
NE: What is it like working with ASSATA? How was the group formed?
Asa: It was tough and sweet at the same time for me.cos they were a group of professionals, and we had to improvise two different cultures. Yoruba, classical and jazz. And of course with the fusion of African percussions. The group is a fusion of two cultures-Yoruba and French secondly, African traditional melodies and western jazz. at the end of the day, who call it contemporary music. Music gone crazy (excuse my language).
NE: Do the other members of the group have Individual projects lined up?
Asa: yes
NE: Your style is very unique. Was it difficult for you to break into the Nigerian music industry with your unique sound?
Asa: if you mean records, no cos I don't have an album yet but in terms of performances, its been overwhelming in the sense that people are hearing something not so new, but original if you know what I mean.
NE: What have been some of your greatest challenges so far?
Asa: the bizness of music the stress that comes with it, the uncertainty. The realization that your life long dream can be destroyed over night by power drunk humans.
NE: And your greatest moments?
Asa: reaching new pitch, meeting with people that matter. when I say that, I mean people who are unique no matter how little.
NE: You seem to spend a lot of time touring. What are the ups and downs about doing so much traveling?
Asa: been in a five star hotel today and a two star tomorrow. That's what live is about, ups and downs. Meeting nice people today and people who just don't care the next, etc.
NE: Who are your greatest musical inspirations?
Asa: Fela, Bob Marley, Marvin Gaye the list is endless.
NE: Are you currently working on any projects?
Asa: yes
NE: Who are some of your favorite artists?
Asa: I don't have one in particular but I like them in different ways
NE: How did you get signed to Question mark records?
Asa: just like any other artist.
NE: Between France and Nigeria, where do you think your greater fan base lies?
Asa: Nigeria that's home girl that home and am loving it.
NE: What artists would you love to work with?
Asa: any as long as she or he is good and has a positive mind.
NE: What Instruments do you play?
Asa: guitar, percussions, I fiddle with the piano and fool myself on the trumpet.
NE: Apart from your love of music, what else do you enjoy doing?
Asa: theater and dance, photography
NE: Where do you see yourself in the next 5 years?
Asa: performing on the world's biggest stage, reaching heights I have never reached making good music, performing with grate people and of course counting good money and etc