INTERVIEW WITH UPCOMING NIGERIAN T-SHIRT DESIGNER TOSIN INYIOLA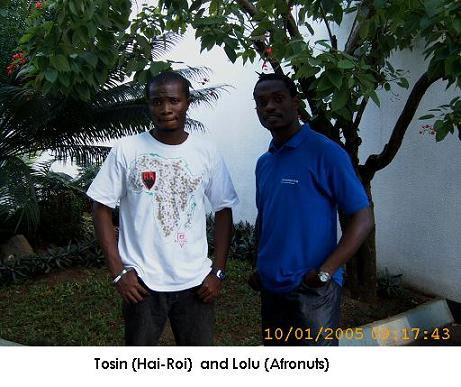 In Nigeria today it's a common place thing to see the strong influx of western fashion and clothing flooding the country's boutiques and clothes markets. Nigerians, mostly the young at heart over the time have been obsessed with designer couture and would gladly spend money to amass any of the latest outfits in town. Just like their craze for acquiring the latest automobiles just a few days to its release into the international market, Nigerians equally have the same penchant for fashionable clothes. It's gotten so serious such that many foreign based Nigerians at times end up having complex when they come into the Nigerian community to see the rate of madness of the fashion craze which dwarfs what they brought into the country. To make it worse, African fashion is now being combined with western fashion thus making a creatively magnificent combination.
But there's a powerful change coming into the country's couture mode. Over the past few years, some dynamic young Nigerians have switched the fashion mode into the Naijacentric mode; that is to say classy urban outfits which are exclusively made-in-Nigeria are now storming the fashion scene and behind this sudden insurgence are a host of budding youths who are eager to turn our urban dressing culture into one that fully original in every sense of the word.
Tosin Iyiola is one of such individuals who are set to revolutionize the Euro centric mind set of Nigerians towards Naija urban fashion.
Tosin runs a clothing line known as HAI-ROI which is actually a powerful acronym that ascertains that the young man relies on inspiration from God to drive his creativity to the max. HAI-ROI (which stands for 'Having An Idea-Relying On Inspiration') is fast becoming a popular urban clothing name and is well known amongst the Nigerian youths.
Like every aspiring young entrepreneur, Tosin never actually had it easy building his outfit. He had to go through so many challenges; enough which would have killed the drive but he held on and has survived the odds over the time.
He has been opportuned to clothe a number of Nigerian celebrities and equally has been picked as an official clothier for a number of Nigerian shows which have run through this year.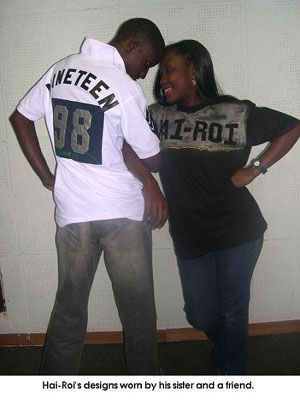 HAI-ROI was established in 1998 with a running slogan that says 'style speaks'. The outfit specializes in making quality, top of the range shirts (tee shirts, casual shirts, office shirts, amongst others) with simple, but classic designs. HAI-ROI also customizes shirts for its clients and has various designs to suit individual styles, tastes & budgets.
Lolu Kushimo (Afronuts) spoke with Tosin in this interview he granted in between his busy schedule.
NE: Can tell us tell about yourself,your family and general background?
HAI-ROI: Umm…I'm Hai-Roy. My real name is Tosin Iyiola. I'm an undergraduate and a designer. I'm from a family of six. I'm the first born so you understand the kind of responsibility I have. I had my education in a military school then went on to the university for my tertiary education.
NE: What university do you attend?
HAI-ROI: Well…I'd like to keep that for personal reasons.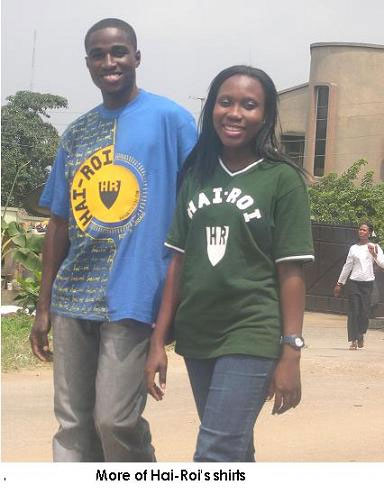 NE: Would you call this pre-occupation a gift or an acquired skill?
HAI-ROI: Actually it's a God-given vision. Right from my early Childhood I liked colored shirts and T-shirts a lot. I had a passion then for the Lacoste and Ralph designs. I was so thrilled by their designs that I thought about doing something like that but which must be different in its styles. And so I relied on God-given inspiration which helped me to discover myself.
NE: How did you come about the name 'Hai-Roi'?
HAI-ROI: [laughs] well…it's a long story.
NE: You can summarize it.
HAI-ROI: I came about the name one particular evening while I was reading my Bible. I was praying to God about my passion to go into designing and that I needed a name that would ring a bell, that would become a household name and one to reckon with. While I was doing that I was just thinking randomly and doing some sketches because I draw a lot. From there I thought about having an Idea which when you abbreviate it, it becomes 'HAI' which didn't sound appealing enough. Two days later, I was walking along the streets of Lagos somewhere in CMS and I saw somebody wearing a shirt with an inspirational statement on it. I can't really remember what it was but when I got home I kept thinking and meditating until the word 'ROI' just came to my mind. I tried to etch out what 'ROI' meant and that was how I broke it down to 'Relying On Inspiration'. How it came is actually beyond my own understanding.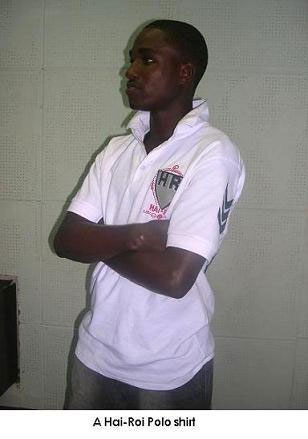 NE: You mean it just dropped like that?
HAI-ROI: Yes. And as time went by I found out that it wasn't something I just worked out by myself. Later on, a friend of mine opened a particular scripture of the Bible and I saw Hai-Roi there.
NE: It's in the bible? Wow.
HAI-ROI: Yeah. I can't remember what particular scripture but it was there in the Bible.
NE: So how long have you been in this business?
HAI-ROI: 8 years now.
NE: What was it like when you first started out?
HAI-ROI: You know how it is in Nigeria. When you want to start something that seems very big and different from what others do, people will criticize you and try to discourage you. It wasn't easy. I started with making one shirt in 3 months and I had to encourage myself by modeling my own shirts, do the marketing and convince people that this was what I believed in. It took a while for people to believe in me.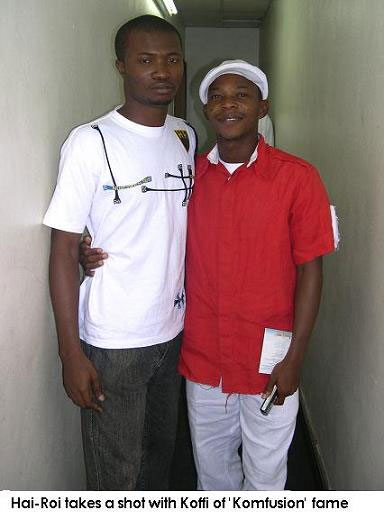 NE: What is the nature of your designs?
HAI-ROI: My designs are focused majorly on T-shirts and Polo shirts which are categorized into three segments; Ruff & Rugged, Gravitate and Afrocentric. Ruff & Rugged is like an all-weather gear which is rugged in nature and built to last. Gravitate is combining three or four different fabrics to make a complete Polo or T-shirt while Afrocentric is a blend of T-shirt fabrics with traditional African fabrics like Kente, Ankara, Aso-Oke and the likes.
NE: Which of your designs trips you the most, your favourite?
HAI-ROI: Umm…that would be Gravitate.
NE: Why?
HAI-ROI: Because its fun for me combining different fabrics and seeing the outcome. I'm like whoa…you actually did this? Its fun for me.
NE: Which of them has been the most challenging?
Hai-Roi: That would be Ruff & Rugged 'cause it takes a lot of thinking and process before I can come up with an eventual design.
NE: Do you have any role model in the industry you pick inspiration from?
HAI-ROI: Right now I don't really have any role model because I try to just do it my own way and not imitate anybody, just for my own style to speak for itself. But I have other Role Models who are not into designing but have really inspired me.
NE: But if you were to pick the first three designers that appeal to you; both locally and internationally who would you pick?
HAI-ROI: well…I'd pick NEXT followed by Sean John and in Nigeria it would be Deola Segoe.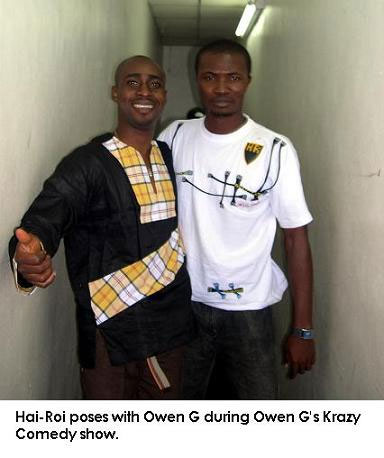 NE: What do you see your outfit becoming in the next five years?
HAI-ROI: I see Hai-Roi becoming a household name, especially in Nigeria and probably in Africa as a whole then gradually moving into the European market.
NE: Who are the artistes or celebrities you've been privileged to cloth or costume?
HAI-ROI: So many. I was the official T-shirt designer for Owen Gee's comedy show. I've worked with Rooftop MCs, Bookie, Holy Mallam, Koffi, A.Y, Renym Entertainment, Dom Lawson and a whole lot of individuals too.
NE: What obstacles have you had to face breaking into the industry and what challenges do you face presently?
HAI-ROI: Well I guess it's the marketing segment. Most Nigerians don't see much in a T-shirt. They believe its just a very casual and ordinary thing to wear. But of late they are beginning to change that mindset with shirts that have to do with combining fabrics because of the unique quality and look they bring out. The major challenge I'm having is convincing Nigerians that T-shirts are not just outfits you wear at home but outfits you can wear anytime, all-purpose for any use.
NE: How can people get in touch with you if they need your services or need supply of your designs?
HAI-ROI: My address is No.64 Oyebanjo Solarin Street, off Ketu, Lagos. And my phone number is 234-8034197377
NE: Any special woman in your life right now?
HAI-ROI: [laughs] Yeah…there is but I wouldn't want to mention.
NE: Could you tell us about her even if you don't want to mention her name?
HAI-ROI: [Reluctantly] Hmm…she's someone I really respect a lot. She inspires me in all ways. She believes in my dreams and believes I can achieve it.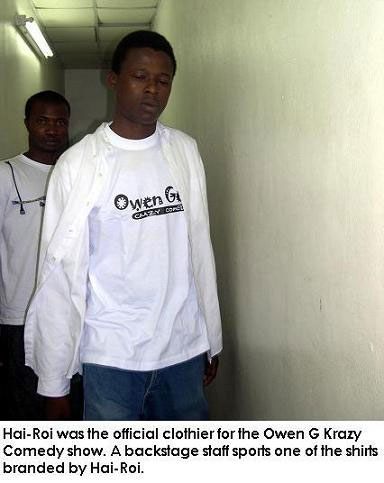 NE: So she'll be that woman behind your success.
HAI-ROI: For real.
NE: Any advice for those coming into this business?
HAI-ROI: My major advice would be to them to concentrate on what they want to achieve. They shouldn't derail. They should focus and try and be creative because it will really speak more about you.
NE: Alright. Hai-Roi it's been nice talking to you and I wish you the best and hope that the sky or rather, the galaxy becomes your limit.
HAI-ROI: Thank you very much.