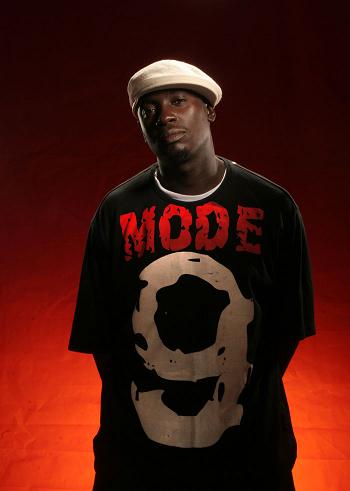 NE: Why the name "Mode 9"?
Mode9: ....well I got the name from being able to work scientific
Calculators' most complex functions in my first year in college.
NE: Tell us a little more about yourself.
Mode9: I was born in England, 3rd born outta five from Osun state, em I love watching comedy, I draw quite well en I have been doing a lot of producing lately.
NE: How did you fall in love with Hip hop?
Mode9: I fell in love with hip-hop when I heard Grandmaster flash en the furious five back in the early 80's it was a crazy new experience, I couldn't stop thinking about it.
NE: Let's talk about the upcoming album, when should we expect it to drop?
Mode9: Well I don't really know, since I aint even half way thru it yet...I guess 1st quarter of next year.
NE: With new and emerging rap artists like Rugged Man, Trybesmen etc etc, do you still think that the Industry is filled with trash?
Mode9: these guys have been there for quite along time they aint even emerging, they okay!!! But we still got a lot of trashy artistes in the system.
NE: What makes you different from every other rapper out there?
Mode9: I read far more than ya average Nigerian rapper en I use a lot of
punch lines/wordplay you gotta be quite clever to decipher what I'm saying most times.
NE: What happened to your unrecorded tracks? Do you ever plan to release them?
Mode9: they still wiv my former CEO I might just remix em en push em out in a few years who knows?
NE: Apart from the fact that it was pretty hard to break into the industry back in the day, what have some of your biggest challenges been?
Mode9: Surviving!!!! and getting people to listen to you not forgetting trying to get on big shows.
NE: Which of the popular Nigerian artists would you love to work with?
Mode9: None of them!!! I had a very bad experience wiv one, so im watching ma back!!
NE: What's a typical day like for you?
Mode9: rite now im trying to record an album so im up early , en off to the studio where I spend the whole day ...quite boring huh.
NE: Let's talk about your video, "Question mark". Who directed it? Where was it shot?
Mode9: I do not have a video for question mark anthem; all I have is a snippet in the street monks video "salute" Directed by Lumi en Blast it was shot at various hot locations Lekki in Lagos.
NE: How long did it take for you to wrap things up?
Mode9: for my part not long at all, ive bin doing videos for about five years so my part was a wrap in less than 30 minutes but the whole video took close a day and a half because of movement around the different locations.
NE: What were some of the highlights of the shoot?
Mode9: I was rhyming inna limo even though I didn't like it cos that's not my way of life ...im a backpacker!!! but ..Hell it cost mad stash of cash to rent so I had ta do it other highlights of the shoot was the Boat scene and the strip club scene which was really hot cos it had never been done before in Nigeria, it's a really hot video that I betcha.
NE: What's your relationship status right now? Is this subject to change?
Mode9: private
NE: Do you feel that Ladies treat you differently once they find out that you are an artist?
Mode9: hell yeah
NE: What's on repeat in your CD player?
Mode9: 9th wonder and Little Brother
NE: Apart from the music, what are your side hustles?
Mode9: rite now, music is my side hustle!!!
NE: What advice do you have for the aspiring hip-hop artists out there?
Mode9: read.