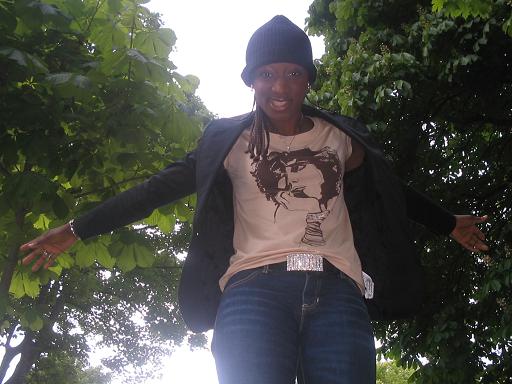 NE: Hello. Ayo itís an absolute pleasure to interview you. You have a stellar profile and a very interesting background that can make anyone wonder why on earth is she into the hip hop world?
X-2: Hello Yetunde! Thank you for having me.

NE: So before we go into details, lets get the top 10 out of the wayÖ..Favorite time of day?
X-2: I love the mornings. Everything is new. Youíve got a fresh start to a brand new day. Itís a good time to plan things as well. You can say: ďRight, today Iím going to do this that and the other.Ē
NE: Favorite cereal?
X-2: Shreddies. You can eat the cereal with or without sugar and it still tastes nice!
NE: Favorite food?
X-2: Iím going traditional with this one: Jollof rice, fried plantain & chicken (thatís the drumstick and not the breast. Itís too dry.
NE: Favorite beverage?
X-2: I like tea

NE: Favorite CD of all Time?
X-2: Youíre going to laugh! ďSpiceĒ by the Spice girls. But it was about 10 years ago. They were so full of energy and seemed to be having a lot of fun. I just remember playing that CD over & over & over again.

NE: Favorite movie of all time?
X-2: Sound of Music. But I recently watched Kung Fu Hustle and I think thatís the funniest film Iíve ever seen. It comes very close to SoM.

NE: Favorite quote you live by?
X-2: My three Fís: Donít lose Faith, always cherish your Family and keep your Friends close.

NE: Most influenced (entertainer) by?
X-2: Janet Jackson. Sheís a brilliant performer.

NE: Favorite genre of music you groove to?
X-2: R&B & Rap music

NE: Favorite soccer team?
X-2: ARSENAL!

NE: X2, I have to say is a very solid name for an artist. Itís sort of a name that stays with you. When did you realize this name and what is the story behind it?
X-2: Thank you, but there is no real story behind it. X2 is not just a name to me, itís who I am. It describes my upbringing, my personality, my way of life, and my music in a nutshell. I was born in Nigeria but Iíve lived here in the UK for 10 years. Iíve taken in experiences from both societies/worlds which as you know, are very different indeed. Itís these influences that have made me mÈlange of two cultures Ė African and European. With the music, it was miraculous teaming up with Backbone Music (JJCís production company) as they have been paving the way for Afropean music for some time now. I felt right at home.
NE: Your signature name gesture done with your hands crossed and the peace sign up with the other hand is a very strong statement. What would you say is the influence for such a hand graffiti statement?
X-2: Lol! I guess it served its purpose. I have quite a few X2 gestures. Itís all for fun really. I did another one in the Wifey video. My friends keep coming up with all sorts! But I canít take full credit for that particular gesture in Born & Bred. Skillz (= JJC) came up with it.
NE: When did you realize that you had a gift for rapping?
X-2: I was a performer first. Iíve been dancing in front of crowds since the age of 13, for my school (ISI) and for church. I loved doing that. I think at that age, everyone dreamt of becoming a big star so as you do, you get out your pen & paper and duly start scribbling a few rhymes.

NE: When did you accept that you had to hone your gift and present it in a package to the world?
X-2: Not until quite recently to be honest. You can blame that on my family and friends! They have all been very encouraging. Every time I wrote some verses or played a bit of my music for them to listen to, Iíd get a positive response which just fuelled my confidence.My mom in particular. She supported me all throughout my education and then as soon as I decide to become an artist she again backs me 100%!

NE: What was your biggest challenge in getting people to recognize your work as an artist?
X-2: It was very challenging for me in the early stages as I handled all the promotions, bookings, writing, distributing etc myself. If I didnít love it as much as I did, Iíd have thrown in the towel six months ago! The biggest challenge Iíd say would have to be the media. The only way people can get to recognize your work is if they see or hear your work. Over here, there is a lot of competition and the big names will always carry the top billings on the mainstream stations. But thanks to support from the likes of Channel U, BEN TV, OBE TV & Music Africa itís less of a struggling case now. And since I now have representation and a lovely agent sorting my affairs, Passion TV, MTV Base Africa and BBC 1Xtra are all playing my videos and songs. So I canít complain.

NE: There comes a certain point in the life of an artist when you realize ?oh my God this is it. Iím doing what I really have a passion for; Iím getting the crowd moving.? When was that moment for you?
X-2: I get that feeling every time Iím on stage. Iíve done at least two shows a month since the beginning of this year. Iíve performed to small and large crowds. There will always be one person in the crowd (and no itís not my brother!) who really gets into the music and that alone does it for me.

NE: You coin your genre of Music ĎAfropeaní. Does this have to do with the fact that you reside in Europe?
X-2: It has a lot to do with that. Itís 50% of me. As aforementioned, my music is influenced by my society. Iíve spent half my life in Britain so when you hear and watch the video ďGirls are playing footballĒ, the concept, the theme, the sound, youíll immediately and agree that thatís the European side of X2.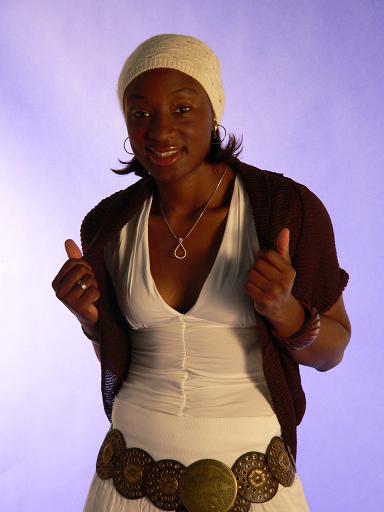 NE: Who would you say are your biggest influences or visual mentors in this industry?
X-2: I like to watch out for what Missy is bringing out next. All her videos are full of creativity. Closer to home though, I would have to say Paper People Productions and Backbone Music, because Iíve seen firsthand how much work, effort, creativity and discipline goes into making remarkable videos. Itís mad!

NE: Numerous artists use defining moments in their lives to create music. What would you say influenced you to write Born and Bred?
X-2: I am very proud of my culture, I love Nigeria and I want to represent Nigeria in the best way that I can. I had already released ďGirls Are Playing FootballĒ showing my European side. I wanted a song that would showcase my African heritage as well. In the song I say ďÖso I put my all in it (learning Yoruba), so much so Iíve even got my friends speaking itĒ. Itís true. Iíve managed to teach a few of my European friends a bit about the culture and some Yoruba too! They can say a few basic words like hello, how are you, come, go etc. We all enjoy the banter. The song just developed from there. I had to explain where I was coming from and I thought it would make people laugh too.

NE: As a huge soccer fan. How do you constantly instill your passion for the game into you music, your life?
X-2: There are similarities with football and music. In both fields you have the opportunity to be creative. You must be dedicated and show ambition as well as maintaining your professionalism in terms of playing by the rules and having respect for other players who are better than you. As with football, in music you have team players who you rely on. Like your producer, vocalist, and the sound engineer to get your composition sounding right. ďGirls Are Playing FootballĒ as you know was inspired by my passion for football.

NE: What was the experience like shooting your first video?
X-2: Hectic but exciting! I remember running around trying to get permission to film at the Peel centre, to get the local press involved and making sure my friends would be available, even my mom was at hand to kindly help provide lunch. Filming started at 10am and finished at 7pm. I thoroughly enjoyed the experience.

NE: You have collaborated with numerous artists like Tony B (South Africa), Hez (Kenya) to name a few. Do you have any other major collaborations you?re working on next?
X-2: Yes. Iíve met another talented producer called S.Marvel and weíre currently working on a few songs which will be included on my EP. Marvel comes up with the craziest of sounds! I canít wait for people to hear my next track. I also have a song co-written by me and SID, a Nigerian rapper who is part of Da Trybe. I would like to work with Styl-plus.

NE: Many artist start up strong and midway through their careers, they either lose the passion or lose the fans. What should we look forward to from X2 to hold our Afropean interest?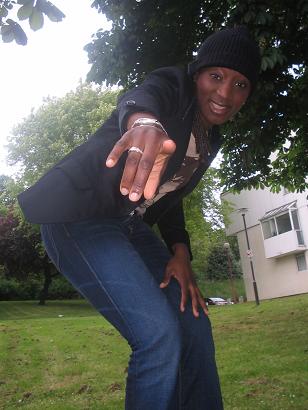 X-2: Iím going to continue to work hard, improve on my music, my performances and stay ahead of the game by keeping you interested in the Afropean concept.

NE: Now Ayo, or should I say X2. As a woman and as a woman in the hip hop world. Who is your biggest fashion influence and how do you intend to incorporate your sense of style into your art?
X-2: Gwen Stefaniís style and the Black Eyed Peas. Iíd like to be able to put anything on without worrying about whether the colour or the threading matches! I like a unique look, something different from the norm.

NE: NE: Now whether you dress in a soccer jersey or in a skirt and a tank top you still rock the look. I'm so sure your fans would love to know, are you single? And if you're not, I'm sure they want to hear that you are available?

X-2: Lol! Thank you. Yes, I am single.

NE: As a freshman to this industry, how have you been able to joggle your old lifestyle and this new one to create a balance? Is there a balance yet?
X-2: Oh, I think Iím still juggling. I surprise myself sometimes between performing, playing football, and managing my company, I still have time to sit down and write songs. Music has always been my first love though, so hereís where youíll find me most dedicated.

NE: What should we look forward to with X2 the soccer fanatic, the artist?
X-2: Fresh sounding beats, top performances, a proud product of the Motherland.

NE: Once again, it has been such a pleasure interviewing you. I wish you more success in your career.
X-2: Thank you and I hope youíll have me back again.