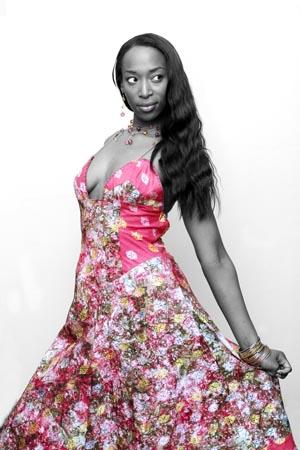 NE: Itís good to finally get to speak with you Tosin.
Tosin: Iíve been really sick with laryngitis, couldnít speak. I got your message and I couldnít call back because Iíve been so sick.
NE: Iím sorry, I hope youíre feeling better now.
Tosin: (With a hacking cough) Yeah, much better.
NE: So tell us a little about yourself
Tosin: Iím 24 years old, studied in the UK for most of my life. I left Nigeria when I was 11 years old and went to boarding school. I studied Chemical Engineering at Imperial College and worked as a consultant for Exxon Mobil when I graduated. I hated the job and left after 11 months in July 2004. It just wasnít me.
NE: Is that when you decided you want to be a designer?
Tosin: Yes. I dug into my passions and it had to be either dancing or fashion. Dancing, however, is something you start doing when youíre a child so I picked fashion designing. Iíd made jewelry since I was 18 and sold to friends. I experimented with a lot of things.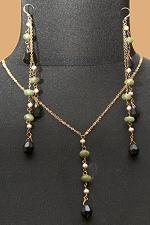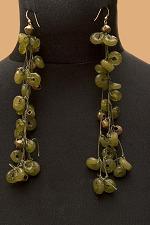 NE: What do you find you love most about designing?
Tosin: I definitely like the selling aspect, thatís always nice (laughing). I also really love the technical aspect, maybe because of my engineering background. I canít actually draw but I see how things should be in my mind, what fabrics, colors, lines should go where.
NE: And what do you find is the hardest thing about what you do?
Tosin: I didnít have any formal training so that makes it hard. Most of the designers out there either went to some kind of fashion school or their parents were designers so theyíre just always been that kind of environment for most of their lives. I invented my own way and sometimes it worked out, but sometimes it didnít. My boyfriend who used to be my business partner once told me that I was trying to build the Empire State Building with a bucket of clay and I see so much truth in that.
NE: Interesting. If you had a chance to work with anyone in the fashion industry right now, who would they be? And why?
Tosin: Just one?
NE: No, go ahead. As many as you want.
Tosin: First would be Dries Von Luton, a Belgian Designer. I love the way he combines fabrics and colors. Then Ralph Lauren, he has this way of dressing a woman casually and comfortably yet she still looks so spunky. Oscar De La Renta just because heís so classy and elegant.
NE: ďThe Zingara woman is highly cultured which is reflected in her lifestyle and in the way she presents herself. She knows how to look good and radiates individualism. She is strikingly sophisticated, subtly provocative and seamlessly sensual. She is free!Ē
Can you tell us where and what this stems from? (Culled from Zingara.co.uk).
Tosin: It came mostly from me being bored with what I saw in the High Street shops. I wasnít satisfied with what I was seeing and couldnít find exactly what I wanted anywhere. I knew what I wanted to look like but it seemed like no one else did so I decided to make it for myself. Zingara gives you a style not just for your size but something just for you. It is completely unique because of how the clothes are made and from what they are made.
NE: Where do you get your inspiration?
Tosin: Most people say they find their inspiration from something outside of themselves but mine all comes from within. I feed off myself. My technical inspiration comes from structure and comfort. There is a difference you can feel when you wear clothes made just for you as opposed to wearing pre-made clothing. People might not notice it but it fits so much better because it was made just for your body. Majority of the designers donít know how to make clothes for African women with our wide hips and small waists. I have an obsession with vintage Aso-oke as my grand mother had such a rich taste in it. I guess that filtered down to me. People like to embrace the new and throw away the old but I try to revitalize the old stuff.
NE: How old is the oldest piece of fabric you own?
Tosin: I have one thatís about 200 years old and mostly I work with stuff thatís over 60 years old. I make some outfits and people ask me where I got the fabric from, itís so beautiful and I tell them I got it from some remote village in Ondo and theyíre stunned.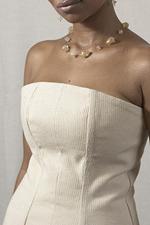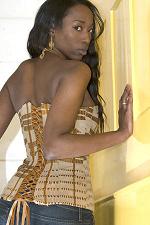 NE: Zingara, thatís a beautiful name. What does it mean, where does it come from. Is there a story behind that?
Tosin: Zingara means Gypsy. Ever since I was a kid, Iíve been obsessed with the romance of the gypsies. When I was starting out, my ex-fiancé who is Italian and I looked very hard for a name. We initially thought about gypsy but that was too clichéd so we went through so many names in different languages but eventually come back to Italian and Zingara it is.
NE: Beautiful. So do you plan to ever just leave it all behind and live La Vie Boheme?
Tosin: Oh I am already. Just looking at me should tell you that. (Laughing).
NE: Are there any plans to do a show in the US anytime in the near future?
Tosin: I was actually supposed to do shows in Chicago and Florida but I had another show somewhere else at that time so I really didnít want to take on too much at the time.
I was also supposed to move to California to study at a fashion at an institute over there and my ex-fiancé lived there at the time but that fell through so I stayed here.
NE: What are your goals for yourself and your line in the near future?
Tosin: My goal is to see where it goes you know, live the destiny of the gypsy and leave it all to God.
NE: So I come to you looking to get hooked up with an outfit. How much would that cost?
Tosin: Well that depends on what you want. There is the Bespoke service where I work from a concept to develop an amazing look for the occasion and that could cost anywhere from 100-300 pounds. Thereís also the Silhouette Service which is basically a consultation process between you and I. A fashionable Ďlookí is developed based on the predetermined Zingara range taking into consideration your taste, body type/shape and the purpose of the garment. The price tag on that service is 300 pounds and above.
NE: Not bad at all. What would you tell your friends about NigerianEntertainment.com?
Tosin: Definitely go to it!
NE: Alright then! Do you have anything you want to leave us with? Something interesting, ground-breaking, thought-invoking and insanely profound.
Tosin: No, not really. Normally Iíd try to think of something but Iím a little too ill today.
NE: Well we hope you feel better soon. Itís been a pleasure talking to you. Ciao.
Tosin: Thank you, bye.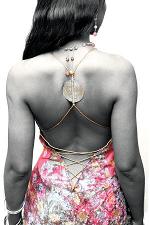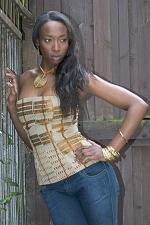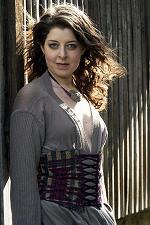 Visit Zingara Fashions at www.zingara.co.uk
.