If one word was used to effectively sum up spring 2005, it would be 'relaxed'. The skintight fashions of previous seasons have been shed for more floaty and feminine styles. We can now breathe a sigh of relief as it is no longer necessary to totter around on six inch heels. It is about expressing you without any constrictions and being extremely comfortable while doing so.
Full and voluminous skirts are the first retail hits of the season. Women everywhere are rejecting the curve-clutching pants and abbreviated skirts which have recently dominated the market and opting for something a little more buoyant, romantic - and forgiving. They are breezy, colorful skirts redolent of Woodstock, hippie-inspired and above all, comfortable. Last years cumbersome pencil skirts have been replaced by peasant skirts, prairie skirts and the like. From M***** to Manhattan, these very versatile skirts are appearing everywhere paired with anything from Manolo Blahniks to 3 dollar Old Navy flip flops, dressed up or down, they're perfect for a beautiful spring day at the beach or a glamorous evening out .
<![if !vml]>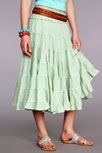 <![endif]>                               <![if !vml]>

<![endif]>                <![if !vml]>

<![endif]>                        
Tiered Prairie Skirt                      Blue tiered sequined              Magenta layered skirt
  $68 UrbanOutfitters.com            $65 debenhams.com              $60 Mexx.com
<![if !supportEmptyParas]> <![endif]>
<![if !vml]>

<![endif]>                       <![if !vml]>

<![endif]>              <![if !vml]>
<![endif]>      
Orange Bohemian Skirt             Black floral skirt                Dream Skirt        
$50 H&M                                  $45 Debenhams.com           $70 H&M
<![if !supportEmptyParas]> <![endif]>
 Crisp whites and vivid colors like Sunburst yellow, tangy orange, dreamy turquoise, pretty coral and pink with a dash of purple are all part of the palette that lend a lively punch to standard black, white, denim and khaki. Peasant shirts, tops, and tunics that dazzle the eye are definitely hot this season. The fabrics are linen, silk, chiffon and lace to add a feminine flair.  
<![if !supportEmptyParas]> <![endif]>
<![if !supportEmptyParas]> <![endif]>
<![if !vml]>

<![endif]>        <![if !vml]>

<![endif]>                   <![if !vml]>

<![endif]>               
Loverman Top        White Embroidered Cami         Pink Sequined Kaftan
$40 H&M                   $25 Debenhams.com              $28 Debenhams.com
<![if !supportEmptyParas]> <![endif]>
<![if !supportEmptyParas]> <![endif]>
<![if !vml]>

<![endif]>                 <![if !vml]>

<![endif]>                                <![if !vml]>

<![endif]>          
Tunic                                        Turquoise lace trimmed                        Egyptian tunic
Oldnavy.com $19.50                embellished cami $30                              $90 H&M.com
                                                debenhams.com
<![if !supportEmptyParas]> <![endif]>
Extremely bright trenches have made a comeback this season. They make any ensemble look chic and sophisticated. Blazers and shrunken boxy jackets are also a staple this season to be paired with capris, khakis, skirts and jeans. Give your ankles a breather this spring with the wide variety of slippers and sandals available. Gold is an especially popular color for shoes this season. Jewelry and accessories have taken a more tribal and ethnic look. Lots of beads, shells and turquoise  are being showcased. <![if !supportEmptyParas]> <![endif]> <![if !supportEmptyParas]> <![endif]> <![if !supportEmptyParas]> <![endif]>