Hanging with Rukus, A.O. and Kamikaze (of inDmix) in H-town.
A few of our NE team members took some time out to get a taste of Houston Naija style.

It was a week of laughter, loud music, painful heels, bible study, flirting, great conversation, learning, heartbreak and even semi-screaming matches.
Saturday: The prelude to a memorable week found us in the parking lot of Houston's well known Nigerian 'Finger Lickin' restaurant with Kamikaze and two of his out of town guests otherwise know as Neon79 and Mr. Magic (on the NE forums). What began as an effort to 'let the food settle', ended up in a laughing bout, when Kamikaze succeeded in setting off the alarm of a parked delivery truck. No he was not trying to steal frozen fish or custom made Bata slippers, he just wanted to outshine Neon79 in his role playing of a 'real area boy.' With our stomachs still in knots and a few pictures taken, we let the boys go off to their clubbing while we drove up to a more mellow night of 'chillin' with folks as we'd like to call it.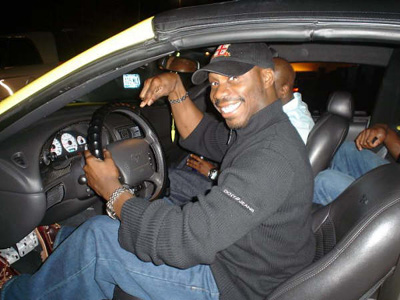 Tuesday/Wednesday (fast forward): The rest of the 'out of town' crew as well as A.O. He came in chill and friendly as usual, non-stop free styling and working with new beats trying to come with new material for a future album. Of course we can't forget being a gentleman but still dropping sarcastic comments when necessary. These two days were filled with introductions, movie watching, stocking up on food (so necessary for what was to come) personal items and catching sleep from flights.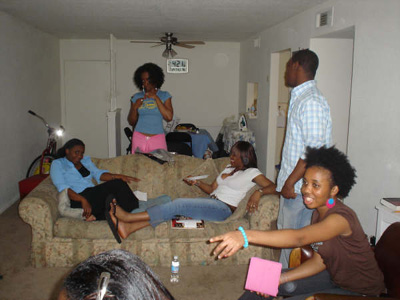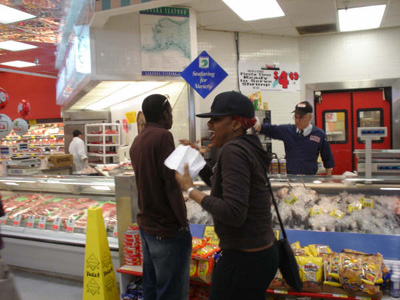 Thursday: What does 'The Galleria' + 'Cash' equal to? Yeah 'BROKE. A common ritual of vacations is of course the shopping. After much ado, most of us decided to put money into Houston's economy while getting 'cute' or 'hot' items added to our various collections of things.
Thursday was also our first meeting of the trip with Rukus, who tired from work (hustla) still dropped by to visit and let us in on what was going on with his upcoming album and mixtape. Whoever thought that rappers could be so mellow and humble?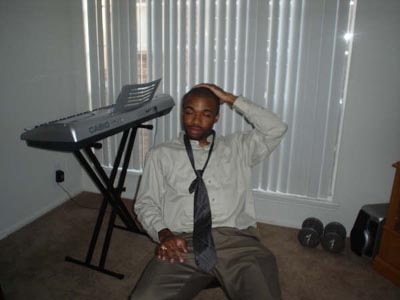 Courtesy of Kamikaze the spot for the night was another well known spot in Houston: M-Bar. Although there were a few 'technical difficulties' at the door, we did find ourselves inside "the place to be on Thursday nights." The music was on point, the people were beautiful and the company was great. A.O showed of his dancing and I-can-get-grown-women' macking skills. Xzibit, Chingy, and a lot were in full force repping at the M-bar that night. (Check out inDmix for more pictures.)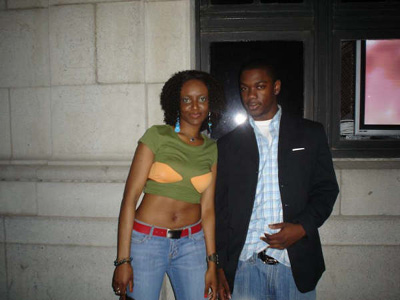 Kamikaze after a night of 'working' was not to be left behind on the dancing as he showed up to do his all time famous 'pick 'em up' moves. We had two female victims that can testify to the disorienting yet somewhat addictive nature of said dance moves.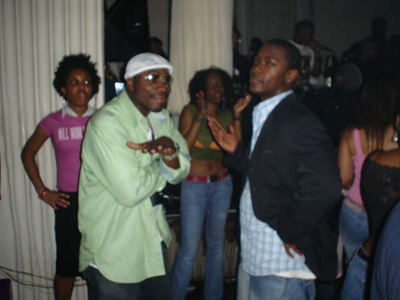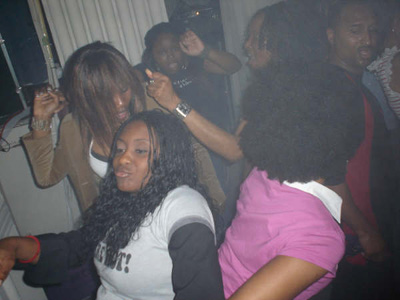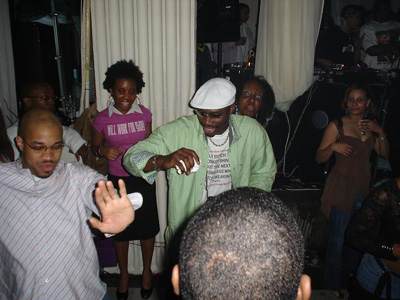 After what can only be described as a 'sweaty' and back aching night, as well as a lost credit card and id (just when everything was going great), we headed 'home.' Kamikaze being the decent host that he is allowed his baby (his car) to serve as another source of transportation for us. Sleep called!!
Friday: More mall raiding with returns and exchange and the desire to purchase even more stuff. To think we were broke from the day before!
Evening Bible study with Dunamis (a social bible-based fellowship group based in Houston) was definitely another highlight of the day and the trip. We got to socialize and meet with even more people and share opinions and learning.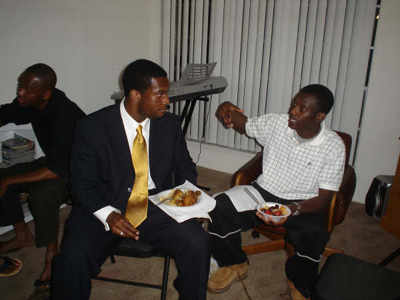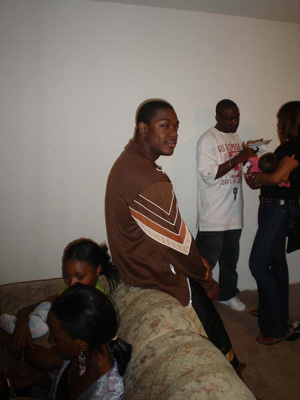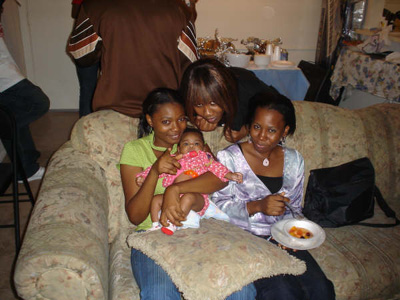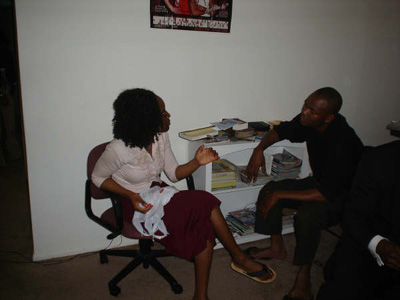 If nothing else the food was great and the company very hospitable.
There was still enough energy after that to get dressed for the Naijabrothers Spring Fling party. The crew definitely looked forward to this event for some well needed 'culture', African sounds and environment. Here we once again met up with the very chill Rukus, who seemed content watching the party from the sidelines for the most. A.O. did not stop letting us know that he not only rapped, but he could also do a few tricks with his legs and hips a la Naija blood.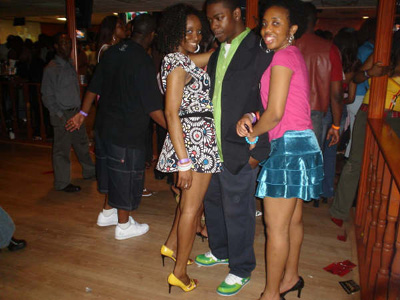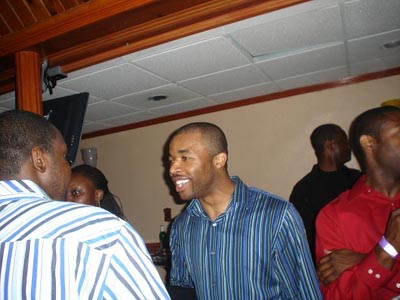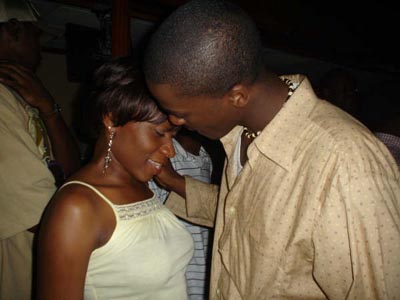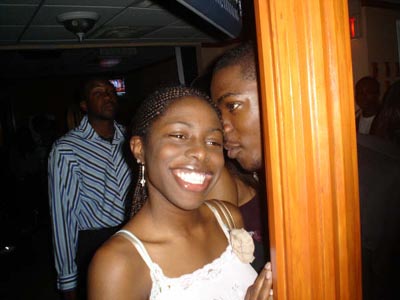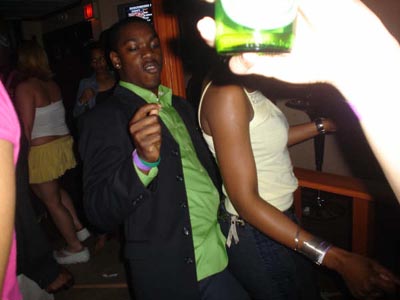 Although somewhat disappointed with not getting enough of that anticipated culture, it was definitely a blast, with our 'dance till you drop crew' on board, even Rukus showed us a few moves and proved that he could do a lil som som also!! Yet another sour note as a few 'people' decided that gunshots would be a good way to end the night. But that's another story all together…moving on…
Saturday: Mini-Recovery session earlier on in the day, combined with movie watching, and 'round-carpet' discussions. We were invited by Dunamis to "Face 2 Face" a show about the 'Christian perspective on dating' which consisted of dance, theater, music food and rousing discussion sessions. A.O. participating in the discussion session showed us yet more sides of him- thoughtful, engaging and funny.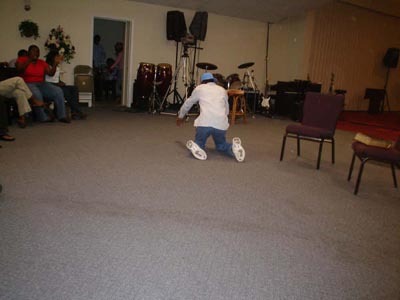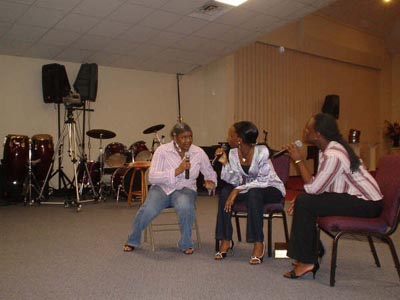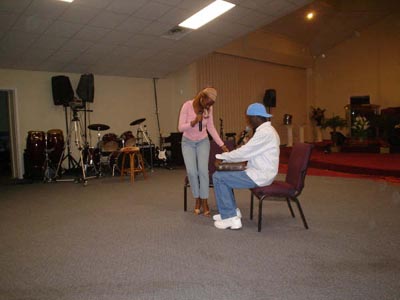 The show was definitely one we were glad we didn't miss. And I won't say who 'tiffed' food in their purses, I won't say…but in defense, how many times do you get to see meatpies and scotch eggs on a regular American afternoon? Not a lot I tell yah, so you better get it while you can!!
It was Reggae night later on at Riddims. You gotta have the reggae: the dancing and clubbing experience is not complete without it. But I tell ya these women must have had some kind of infusion in them! They were still dancing, non-stop, and they're great dancers too, so they'd be forces to reckon with!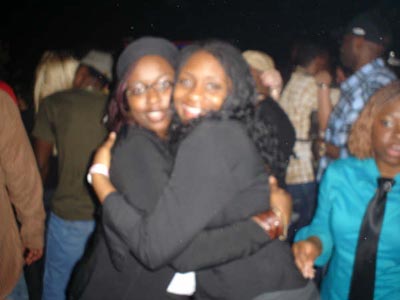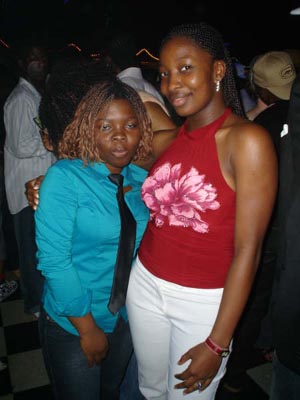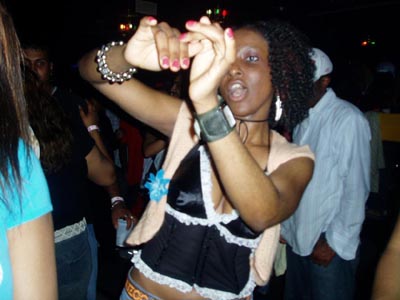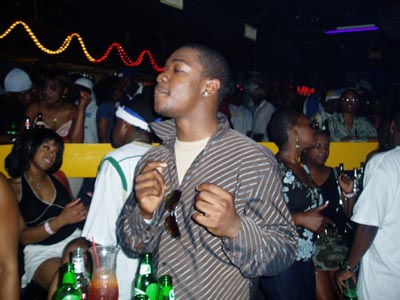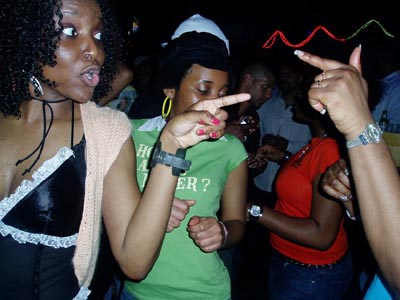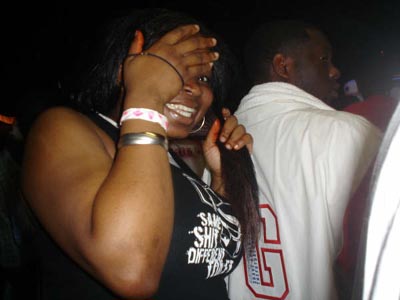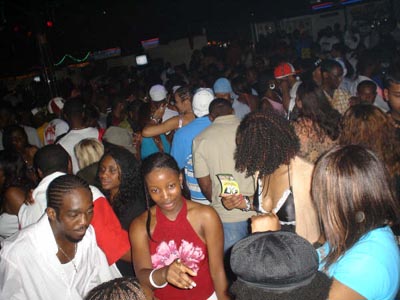 It seemed though that we had a theme of sour endings. *cough* Car towed *cough* rain and biting winds *cough* could have stayed home *Cough! Cough!*. But alas we got home relatively okay.
Hugs and Kisses and last minute discussions and clowning as it was time to start packing for early morning flights back to 'reality'.