If Life is a Bowl of Cherries- What am I doing in the pit?
-By Dimeji Alara
Gideon was at the club that Friday night, he didn't come to enjoy himself but to see some friends. I never knew or met Gideon until that night; he's a professional cook in his mid twenties. Gideon was just getting to a point in his life where things were beginning to get better for him, the time he could start eating what he had laboured for in life, he was loved by everybody, even my one encounter with him was a blessing. I met him at the club that Friday night and that was it!
He was dead early Saturday morning, in a car crash, that was about five hours after we'd met within those hours he'd gone to all his favourite hangouts and clubs, seen his pals and even made new friends which I happened to be part of. He'd seen most of his friends that night and even sent text to the ones he couldn't see just like he knew he was going to die. Early Saturday morning, the news was everywhere: Gideon was no more.
This also reminds me of Ricardo, an Italian friend of mine who died in a bike accident. Ricardo use to have a variety of power bikes, because he was a bike freak. He was the first of two children; he had a younger brother who was about thirteen years old then. I remember Ricardo's brother always squealing on him each time he catches him smoking a cigarette. I met Ricardo at Eldorado Beach and we became very good friends, but after some months I learnt he was dead, it took a while before I could recover from the shock.
I didn't want to believe it but there was nothing I could do, because he was gone with the wind. I didn't go to the burial because I didn't want to see my very good friend's helpless body lying and about to be thrown in a pit. But the people who went told me about it all: "You don't want to see what he looked like that day," a friend told me, "He had different colours on his face, his face was swollen all over that I would never have recognized him," another friend told me. But what could I do? He was gone forever.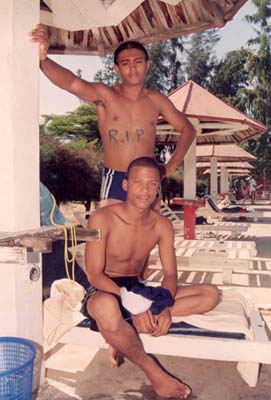 Dimeji Alara and late Riccard(Riccardo died on the 15th of May 2002)
Another person that I will never ever forget is Jaiye Aboderin, I guess we all know him, but in case you don't, well he was nice, humble, easy going. I can t get enough words to describe this great hero, husband of popular actress, Stella Damasus Aboderin. Jaiye's death was one that came to everyone as a shock. I had met Jaiye several times and we became very good friends, the last time we discussed was at the launching of 'Minted Magazine' and then I never saw him again except that we talked on phone. I was supposed to interview Jaiye and his wife Stella for our valentine edition (Genevieve Magazine). I had booked an appointment and everything was set but he was gone, a day before the appointment. Oh, how people die; gone too soon!
And that makes me think deep about this thing called death, thinking of leaving all the things I had suffered for behind, leaving the people I love and never see them again and one day being in a pit just like everyone else would. So, why be so hard on ourselves? We keep enemies rather than friends, we take life so hard that we spend most of our time on earth being sad instead of being happy, we prefer to spend time thinking of the bad things that has happened to us instead of the good things happening in our lives we are just too busy thinking negative, but why? We seem to have forgotten that we have just one life to live, we never know when death will come knocking at our doors.
Let's spend time thinking of the good things happening in our lives, let's spend more time making friends rather than keeping enemies. Let's take life easier on ourselves and show love rather then hatred. Life is too short for all these; let's enjoy it to the full. We all hate to think or discuss about death but no matter how much we try not to believe it or even think about it, we will all die someday. Reader, your time on earth is short, each closing year, each setting sun, each tick of yonder clock, is shortening your days on earth, and swiftly, silently but surely carrying you on to where you don't know.
Today your feet stand on time's sinking sand, tomorrow the footprints remain, but you are gone! Today your hands are busy at work, your eyes are beholding, your mind is thinking, you are planning for the future. Tomorrow all is still. The folded arms, the closed eyes remain, but you are gone. Others were once busy as you are, healthy as you are, thoughtless as you are; but they are gone. Let's be happy and lets spend each second, minute, hour, day that passes in our lives to be happy, because that's what life is all about.