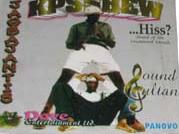 Jagbajantis - Sound Sultan


Jagbajantis is the first album from the charismatic performer Sound Sultan.
But first...this album is not all about the single Mathematics. In fact, I
think it's one of the more shaky songs on this album. Don't get me wrong, it
was unique, yes. I'm sure lots of folks liked the subtle use of the
instrumentals from Onyeka Owenu's "One Love", and the clever references to
primary school math. But his delivery on that song falters. There was more
than one point where his voice seemed to fade away. Even the rap by his big
bro, Baba Dee sounded monotonous, and lackluster. Luckily for the Sultan, he
has MUCH better songs on the album;

SS should have placed the next song first. Koleyewon is a bolder, more
expressive song, which shows the young musician as a more capable, versatile
entertainer. Featuring Baba Dee, the Plantashun boys' Faze, (and a third
artist I couldn't catch), he came correct vocally; Awesome songwriting from
the Sultan, with strong backing instrumentals, thanks to producer Nelson
Brown. I'm just pissed that mathematics got more rep. This song is one of
the better songs on the album.

By the time you reach Craze World, you start to realize that the Sultan
isn't gonna change up his topics anytime soon: Throughout the album, he
beats down the issue of economic and social injustice in Naija. Nigerian
music fans would feel the obvious Afrobeat influences in this song. I
especially liked the last part with the call and response of "Kilon Le
je..Le je Le je".

The next song, Gen Gen, plays with movie themes in describing how Naija's
past politicians/rulers are similar to "actors". So far, this album has the
Sultan trying out different styles here, from straight up rapping, to
singing. At the middle of the album he starts to use his comical delivery to
his advantage. For Kilode, he settles for word slinging in pidgin, dropping
some truly funny lines. Typical example:
"Boneface, you're looking out of place!"
"why I no go bone, all my cloth be like lace, hole everywhere, people think
say na design.."

The other songs on the album are As Man Dey Grow, which reiterates the fact
that we will all "kpai" sooner or later, delivered in very casual pidgin, of
course. Mind your business is another humorous song, with playful (if not
silly) arrangements, and funny anecdotes. Jagbajantis finishes off with
Smoke Igbo, which, I'm proud to say, does NOT promote the use of weed.

This album is a good start for Sound Sultan. Regardless of what he brings
up, he delivers it in an accessible, jocular manner. That attitude lets him
vary his delivery like he wants to (although the topics are mostly the
same), and he's able to be as creative as he wants to be. The album has its
flaws, but in all, Sound Sultan can't be relegated to being just a good
singer...or rapper even. He's a talented music maker.

Email Ike at kechola@hotmail.com